(photo credit Don McCullough)
Undergraduate students learn value sensitive design by envisioning the possibilities for personal drones, a new category of personal technology. The Tech Policy Lab provided funds for purchasing drones for classroom use.
Prof. David Hendry, Associate Professor, The Information School recently taught an undergraduate class in value sensitive design, a design methodology pioneered by Lab Director Batya Friedman. Value sensitive design seeks to provide theory and method to account for human values in a principled and systematic manner throughout the design process.
Working in teams, the 28 students, about half enrolled in the Informatics program at The Information School, were positioned to learn about value sensitive design by investigating the design space and value implications of personal drones – an emerging category of personal technology. See Lab Director Ryan Calo's opinion piece When is my personal drone landing?
Personal drones are not military drones, drones used for reconnaissance, surveillance, or targeted killing; neither are they domestic drones, drones used by American corporations, police agencies, or other institutions or by journalists, the paparazzi, scientists, or first responders. Instead, personal drones are envisioned to be unmanned aerial vehicles which are used by individuals in everyday settings, at home, in parks, in nature, in neighborhoods, around the city, indoors and outdoors.
The Tech Policy Lab provided Prof. Hendry with funds to purchase some drones for the class project. These were toy drones, equipped with video cameras, which can be flown with a special-purpose controller or smart phone. Flying time is about 15 minutes.
Students used these toy drones to create videos of value scenarios, stories which envision future uses of personal drones, value implications, and policy challenges. Students, in turn, asked stakeholders to view their videos and conducted interviews. This design and empirical work, along with initial conceptual investigations of direct and indirect stakeholders, led to a careful assessments of the of potential value implications of personal drones.
In brief, students found that personal drones hold the possibility to give human beings new vantage points and new forms of bodily extension and communication. Value implications included privacy, safety, personhood, calmness, solitude, creative expression, reminiscence, among others. Students produced work which explored a wide range of scenarios of the future – drone use for child safety and security, how drones might be used by the visually impaired, a digital photo assistant drone for taking family photographs, the use of personal drones to attack home-based wireless communication systems, and using drones for home security.
For those that are interested, the syllabus and design brief are available here. Another version of the class will be offered in Autumn 2014.
Envisioning use with sketches. Early sketching of applications of domestic drones (student work):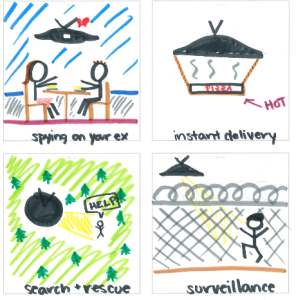 A value sensitive design charrette. Assessment of using drones to protect tortioses from ravens in the Mohabi desert. An analysis of direct and indirect stakeholders, values, potential harms and benefits and value tensions (student work). The design charrette is based on a TED Talk by Tim Shields.